Nvidia launched it's latest new MX150 GPU chip for laptops, its performance is really good. If you are thinking on buying a laptop that has an MX150 (dedicated graphics unit) on it, considering you are on a budget like most of us out there then it's a really good option.

I was on a budget and started searching on best budget laptops and noticed something. I saw a laptop that had the same configuration including the MX150 GPU chip that was about 30% less expensive as compared to the other one.
Now thinking logically why would the other brand sell on a price which was less than most of the laptops with the same configuration while I was looking for some online.
I decided to dig deeper on this.
I found out Nvidia has been sneaking in two variants of the MX150 chip.
---




One consumes less power i.e, is more power efficient but delivers 30-35% less performance than we would expect the MX150 GPU would deliver.
Laptop Companies/Brands don't even mention which variant of the chip are they using on the laptop. If you are buying a laptop from a dealer or from a store and if you ask any of their staff which variant of MX 150 is there in that specific laptop they won't be able to tell you.
Not because they don't want to, but because even they don't know which variant of the chip is there in that laptop.
---
How Can I Know Which Variant Do I Have?
Now there are many ways to find out which variant do you have. If you were thinking about how you would be able to distinguish between them and know if you are buying what you really do want to buy. This is for you people. These are very ways, so if you are not that tech savvy person still you would be able to know.
GPU-Z
GPU-Z is an amazing problem and guessing from the name it displays each and every information that you might want to know about your graphics processor unit. Including the model number and much more.
It is a very small program in terms of size which is one of it's plus point. You just download the program and then just follow the steps and you will know instantly which variant does that specific laptop has in it.
There are 2 variants of MX150 GPU which can be distinguished by looking at the device id. Which is displayed in the device id section of GPU-z.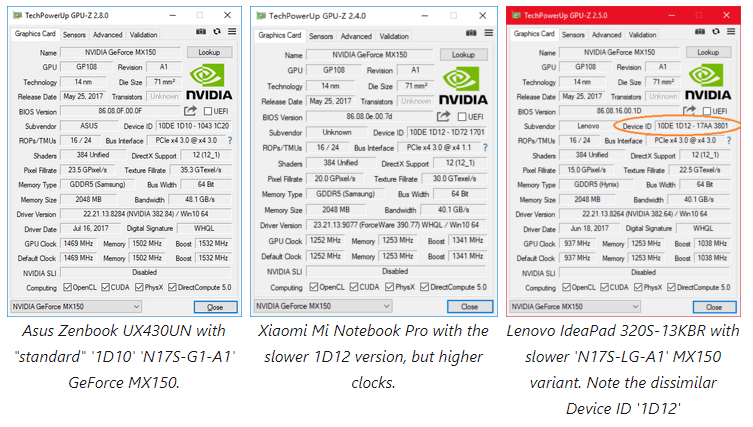 Many people fall into this trap thinking that "Oh! That laptop was more expensive than this laptop whereas this has the same configuration inside it and is also not that pricey so I'll just buy this one".
Most of us would have had this thought as most of us are on a budget often.
So, now whenever you go out looking for a laptop with the MX 150 chip inside you know what to do before buying.
" Nvidia's move to sneak the 1D12 variant into thin and light notebooks was probably to meet the 10W TDP envelope "
As opposed to the original variant's 25W. Luckily, the 1D12 variant has only appeared in 13-inch notebooks.
According to the 3DMark and 3DMark 11 tests, consumers can expect anywhere from a 20 to 30 percent performance hit with the less powerful variant.




---
Performance (MX150 – 1D10 Variant)
Here is what you can expect from what the 1D10 variant of this GPU should perform like in ideal conditions. You will get a basic idea of the frame rate/performance of this GPU paired with Intel's Core i5 (7th Gen).
System Specifications They Were Recorded On –
CPU; i5 7300HQ
GPU; 2GB Nvidia Geforce MX150
SSD; Samsung 850 Evo (M.2)
Ram; 16GB DDR4
Brand; MSI PL62 7RC
---
What's the difference between the 1d10 and 1d12 variant?
1d12 variant having a lesser core clock and memory clock as compared to the 1d10 variant, which delivers about 20-30% lesser performance than the 1d10 variant.
It seems 1D12 variant is much prefered for thin and light notebooks so that it would meet the 10W TDP envelope. Whereas the 1D10 variant (25 W) is much better and much prefer when it comes to performance.
Also Read: Should I Buy A Gaming Laptop For College Or School – Explained
---
Conclusion
There is a significant performance difference between the two variants. So, if you are on a budget and thinking of buying a laptop with MX150 GPU then make sure you check which variant it is. It is better to spend a little bit more and get what you should get, rather than spending all your money on the other variant thinking it is less expensive.